If you're one of the handful of people who are yet to watch Stranger Things (Sci-Fi, Horror, Suspense) by Neflix Originals then now is the time to watch.
It has quickly risen from the overcrowded pack and achieved "must watch" status for one reason and one reason alone – it's really good. One minute it's cover-your-eyes spooky  and the next minute it has moments so good and adorable that will always keep getting you back for more.
And, here are nine reasons why you should binge-watch it right now.
1. Just 8 Episodes
Thinking to spend an entire weekend alone with something you can really binge on? Well, grab your popcorn and log-in to your Netflix account NOW! You're going to have the most overwhelming 8 hours of the weekend.
2. Real Friendship Goals
The story revolves around 12 year old kids. When Will Byers goes missing, his three friends (Mike, Duston and Lucas) do everything in their power to find him. The boys are nerdy, silly and extremely funny but fiercely brave and independent. They have given us actual #SquadGoals.
3. 80's Theme
With Kids riding bikes and exploring the woods together before cell phones and social media even existed, the plot is set with the theme of 80s on a fictional rural town called Hawkins, Indiana with a time-frame of 1980. Also Winona Ryders makes a major comeback as the missing son's mother named Joyce Byers.
4. Eleven
It's not just a number! Millie Bobby Brown is called to action as a psychokinetic runaway. As the mostly silent Eleven, Brown manages to convey an immense vulnerability that's coupled with some eye-popping abilities.
5. Music that gives you Goosebumps
Composed by Micheal Stein and Kyle Dixon of the electronic band S U R V I V E, there's extensive use of the synthesizers to get the feel of the 1980s. According to them, The Duffle Brothers—directors and co executive producers of Stranger Things had been a fan of their band. The soundtrack has been crafted and presented with a stunning score, from the opening theme to the closing credits.
6. Every episode is filled with Mystery
One of the reasons why it's so hard to leave the episodes midway is because of the setting, the mythology, the weirdness, the characters and a lot more. By the time you've finished the season finale, you're already dragged to Upside Down. The mystery will give you sleepless nights. It's like a hangover you don't wish to get rid of.
7. Christmas Lights on the ABCD Wall
The missing boy communicates with his mother using Christmas lights that blink on the wall of alphabets. It was one of the most watched scenes from the episodes and went Viral with Memes and GIFs.
8. Evergreen Dialogues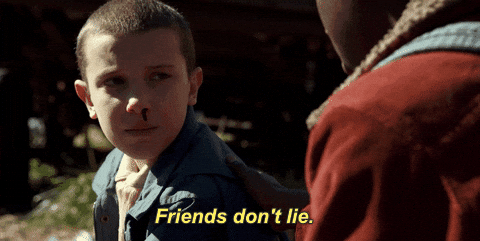 There are lines we use everyday but have left us speechless because Stranger Things used it with the perfect moments. One of the very favorites is "Friends Don't Lie. They tell each other everything." And then there are words like, "Mouth-breather", "Bald-Faced liar" we had never heard before.
9. Season 2 Releases on the 27th of October, 2017
Apart from all this there's a mysterious end that shows Barb and a door and something more. So, if you want to save yourself from spoilers, start watching it before Season 2 releases this October.